PDF to Html Converter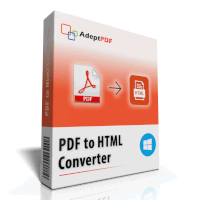 Adept PDF to Html Converter software product converts PDF files to HTML files while seeking to preserve the original page layout (as best as technically possible). Adept PDF to Html Converter enables the conversion of layout originally designed for paper to be used on the Internet.
Adept PDF to Html Converter software is a standalone program and does not require Adobe Acrobat, or even Acrobat Reader.


Overview
Adept PDF to Html Converter is a program to convert PDF documents into HTML format. Using this program you preserve the original layout, links, images, drawings. This conversion utility doesn't require Adobe Acrobat or Reader. Convert your PDF documents into HTML, make them available for all search engines!
Key Features
Support PDF to HTML file conversion.
Standalone software, Adobe Acrobat and Reader NOT required!
Convert PDF file into one continuous HTML page.
Conversion of vector graphics into image files.
Automatically link page numbers to all generated pages.
Allow replacement of fonts and characters in generated HTML.
Automatically resize pictures to fit frame borders.
Optimize and scale HTML code for different screen resolutions.
Accurately preserves Text, Tables, Graphics & Layout.
Generate Navigation, Page Index Bars.
Support multiple document conversions (Batch Processing).
Convert outer fonts into text and embedded fonts into images.
Support drag and drop files and batch conversion.
Support encrypted PDF files (Automatically).
Support hyperlinks from PDF file to HTML file.
Support Page ranges (all, from to, individual pages).
Support PDF1.8 protocol (formerly only supported by Acrobat 9.0).
Support Windows 2000/XP/2003/VISTA/7/8/10 or Later.
Full install / uninstall support.
Screenshots